Moorestown Trinity Church Craft Fair:
This little Holiday craft fair was very quaint and small. I kind of feel bad saying anything negative about it, because it was…….IN A CHURCH and for a good cause. So I will be gentle.
The "crafts" seemed very old school and traditional. It actually brought back many (wonderful) memories of my childhood. Cute little dolls my grandmom used to have, ornaments, etc. Grandma. I got a very "grandma" vibe here.
The prices were AMAZING. They even had inexpensive wrapping paper and gift bags @ 50cents (No Snoopy, I checked!)
However the selection did not seem very "crafty" to me.  It mostly seemed like older things. There were some pretty items but for the most part very "old" vibe.  There was a cute woman selling her books for a donation. Fault in The Stars was there, I was going to get it……..but decided against it because 1)  I had no cash on me 2) it seems sad and I do not want to feel sad right now!
A few woman had some baked goods that looked delicious (pies, cookies, etc) and a woman had some little containers of mac and cheese, "hoagie salad", etc.  It was a great way to support the local community!  An organic coffee shop set up and was giving away free samples, I did not try any, but it looked fantastic!
Tons of nutcrackers
Then it was off to Haddonfield. I wanted to see the ribbon cutting for the new boutique "The Girlfriends Boutique" but missed it.  The store currently does not have a sign outside (local town ordinance, they are waiting to get approved) so I had a hard time finding it. I am not too familiar with Haddonfield yet.  I wandered into a few more stores in the mean time, that I was interested in checking out:
The owner, Deb, was super sweet, informative and answered all my questions! I wanted to know exactly how the classes worked. She pointed to the front of the studio and explained that the artist paints up there and provides us with step by step directions. Our canvas, paint, etc is included. You can BYOB and they even have cute little aprons to wear , to keep your clothes nice and neat!
They offer classes and also schedule group events (bridal parties, birthdays, etc)
Tonight there is a class from 10 pm – 1 am – Wayyyyyyyyyy toooo late for me, but for you nite owls!!
I believe it is a couples class LOOK HOW CUTE! You each make one part of it. I am dying of cuteness!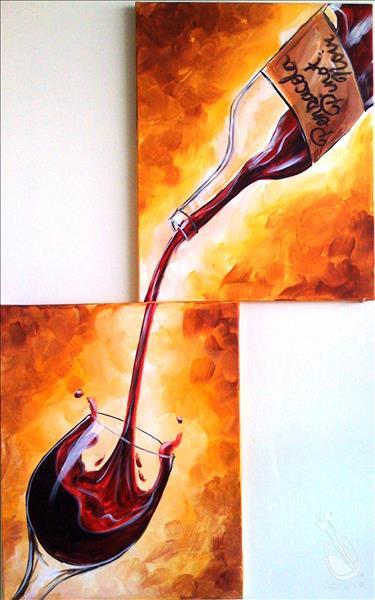 ecember
I will be back. They seriously have the BEST selection of paintings! I feel in love with quite a few. Then I spotted the Eiffel tower painting!
MOM!!!
We have to go, December 27 2:00 – 4:00 pm.   We will paint two (one each) for YOUR bathroom!! We can get some pretty frames!  I love it!  exactly what I had in mind. Let me know what YOU think!???
 Save?
A little embarrassed to admit, I walked , then drove, several times UP AND DOWN the street to find The Girlfriends Boutique. LOL
I finally found it!
Things I loved:
The fact that 15% of the proceeds today went to Autism Cares. What a great cause!
they support local artists and feature their art, which is also for sale (saw some beautiful pieces)
beautiful scarves
reasonable prices
unique items
mavi jeans
friendly
Thought of Robin when I saw this!
Their scarves were very soft!!  They ranged from $19-24
The owner and staff were friendly and pleasant. One of the young girls (maybe a daughter) asked me several times if I needed help…..and that annoys me more than anything, so I was a bit irked 🙂
I did not stick around, but this happened today around 2 pm….
Safe:  Crafting
I was tired today and in a "weird" mood. I was feeling very "indifferent".  Nothing seemed to excite me, upset me, motivate me, entice me…..I was just kind of blah, but OK with being "blah" if that makes sense
I finally finished my holiday wreath and hung it up 🙂
Safe:  Tastefully Simple
Went to a Tastefully Simple party this evening too!  Jamie's home is beautiful and so is the baby. My god, those cheeks! Gerber baby WATCH out!
The party was a really neat idea. I have had tastefully simple products before but never went to a party. It was fun to sit around with friends (and Chase! what a love bug)
I am so excited that I finally ordered myself a bamboo recipe holder for my ipad and cookbooks!! I've had my eye on something similar for months. I love to cook, yet I use my ipad or cookbooks ALL the time , even if I have made the recipe before 50 times, I need that reassurance. So my ipad always slithers down on me, or falls, is just not comfortable or convenient. I can't wait for this baby to arrive! Lol its the little things that excite me most!
Safe:  Affection without any "strings"
So its pretty safe to say that I am happy that I feel like I need people and want people in my life ❤  For a time I was afraid I would never trust people again. I am really meeting some wonderful people that make me feel cared for.
I am also realizing my need for affection and comfort WITHOUT any strings attached. I do not want to date anyone because I feel like there is always a hidden agenda…."If I do this for you, you must do this for me"
I dream of one day finding someone that can cuddle with me, read, watch a movie, talk, day dream and THATS ALL. Nothing else. No further expectations, or feelings that I need to do something in return.
Lily never demands anything in return ❤
Safe:  Bra's
Its pretty safe to say I hate bra's!
Seriously. Can someone, anyone recommend a brand or store that can fit me for straps that do NOT slip?  I hattttttttttttttttttttttttttte the feeling of my straps hanging down. I have to search through my bulky sweater or winter coat to pull them BACK up with my coldddddddddddddd fingers. BRrrr
Woman problems!
🙂
Save:  Cookie Trial
Sunday will be trial 1 of my cookie exchange cookies! 🙂
I am hoping they turn out well! I am not much of a baker, so we shall see!
Save:  Peeps!
So I read today that Peeps will be coming out with a NEW assortment of holiday peeps!! They are assuring a selection of "never seen before"  I am excited. Peeps get me excited!! The gingerbread ones smell amazing!
Here is a look at some of the new ones you may be seeing on shelves:
Snowmen
Candy Cane flavored chicks
Hot cocoa and creme
sugar cookie
red velvet
chocolate mouse reindeer
Save:  Carlo's Bakery (from The Cake Boss)
So I went to Trader Joe's today and drove by the New Carlo's Bakery in Marlton. Wow. THE LINE. Wow.
So what's the deal? I know its famous from the Cake Boss, and now the Cake Boss is in some serious legal trouble, so I get that……….BUT what else is so fabulous about this bakery ?
Have you been? What is it like? What are the MUST HAVES?
Safe
Food and eating is difficult for me. It is getting easier and better but I still feel uncomfortable at times…..most often when I turn things down.  I automatically feel judged and "ohhhhh she has an ED!" However the way I eat is good for me. It is what I want to do. I have a great team of doctors and therapists I am working with, so I know I am healthy. I do not need justification from anyone else. Just as I am trying NOT to judge others, I hope others can do the same (and not just with me!)
What To Say When People Undermine Your Food Choices