I hope you had just as fabulous of a weekend as I did!
I am not sure what has gotten into me, I thought I would feel WIPED because of my recent "surprise" visitor, BUT it had quite the OPPOSITE effect on me!  I was full of energy, productive and so positive!
My day started with a little bit of anxiety (thinking about ALL those things I needed to do) but I talked myself down and grabbed Lily and we both went to grab a coffee (at Wawa!). I read half of the paper (this is big for me, I force myself to usually read the ENTIRE thing, even I do not want to)  instead of enjoying something and getting pleasure out of it, I turn it into punishment (YOU MUST FINISH READING OR YOU ARE A FAILURE)  Well, I let it go, I read half of the paper, THEN started on my to do list 🙂
It was quite long but I was excited because many of the things on it were "fun"
I started my day with a RUN
and finished my book (Me Before You by Jojo Moyes). The run felt GREAT. Everyone, yes EVERY ONE passed me, but I did not care) I felt good, the air was cool and crisp, my book was great, I was outside doing what I wanted to, and it gave me just the push I needed to get me through my day (My to do list was pretty LONG!)
Thankfully I BROUGHT my list with me this time to Target of the things I needed. I usually MAKE the list and leave it at home…….then when I GET home, I realize I forgot half the things I originally planned to get!  So , today, that did NOT happen. I was able to get everything I needed, and surprisingly the crowds and lines were not bad at all! Denise must have had the same idea because as she was leaving, I was on my way in ❤
I met Casey today.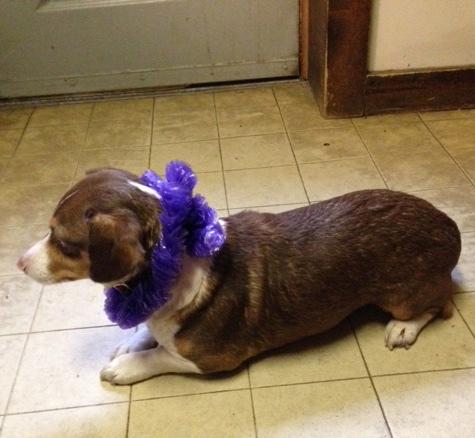 She is absolutely a love bug. She sat right in my arms, gave me kisses and looked at me with those EYES. (Oh those eyes!)
Lily and her were not the best match, unfortunately, which probably would be ok, I am sure we would work through it, but Casey had many other things that just did not "fit" with my current needs and what I can offer 😦
I am still searching for the right fit. I know I will find him or her soon!
I wrote
all my neighbors their little holiday/Christmas cards. (I am trying to butter them up before I pass around a petition to allow me 2 dogs at my condo!)
I felt creative,and the teacher in me came up with a simple little "jingle"
First, I found these "Mini" cards. I Love mini things!! So , I had to get mini candy canes to go along with them. The notes folded up and were cute as a button!
"just a "little" message
to bring you holiday cheer
I'd like to thank you for being a 
wonderful neighbor, here's
to a Happy New Year!"
Love, Diana & Lily
YUP, I am corny……yup yup
I am trying to set up a date with this handsome rescue.
His name is Mr. Buttons….
I love all my holiday cards.
I especially love photo cards. They are so much fun and I love seeing how unique and creative families can be 🙂  I am trying to figure out the best way to display them so I can enjoy them all for a little longer
I finished Me Without You by Jojo Moyes.
I gave it 4 stars out of 5
It was a great read, sort of predictable and light. I did end up crying my eyes out at parts. It felt really good to cry, it really has been so long
I think this book touched me for many reasons. The biggest? My brother. The book is about a parapalegic that is thinking about ending his life. He is suffering, can not live the life he wants, and is fearful of how things and his condition can and will get worse. So he wants to stop prolonging things and have an assisted suicide.
It can be touching if you currently are dealing with someone suffering from some sort of disability or illness, but this is where I could relate
Matthew (my brother) passed away from cancer. It was a long, terrible, roller coaster of a battle for him. He was so so so strong and fought for so long. When he bounced back, he was his happy, healthy self, it was unbelievable.
When he was sick, it consumed me. I was always worried, I was always crying, I was always researching NEW treatments, trying to find doctors that specialized in autism AND cancer, trying to research WHY and HOW he developed the cancer, I searched support groups, I searched and reviewed doctors, treatments, new studies, etc, etc, etc. I did so much to try to KEEP him alive……..I did not ONCE think about him. His pain. His feelings. Did he want to continue this fight? Did he know something we didnt? What did Matthew want?
During my searches, i came across someone that told me I was being selfish. I never thought of it this way, but it was clear. Yes, I was.  I wanted Matthew to stay with me (and us) for as long as possible, whether he felt good or not. I thought it would be better to have a "sick Matthew" than a "No Matthew"…..however I never knew truly how he felt, because …….he could not communicate with us.
This has taught me that what I want may NOT always be what another person wants. It is ok to be selfish, it is ok to want things, but you also have to be OK with accepting what others want. Whether you agree with their decisions or not, you still need to respect their wants ❤
I saw
the cutest thing today! A single box for a donut at Dunkin Donuts!
What! How adorable is this!
I really like this tip, I think I am going to torture myself and try it. We could all use "just a little patience"
1. Practice waiting. Practice makes perfect, right? Get used to waiting again. That's right. Choose the longest checkout line at the grocery store. Walk into the bank and wait in line rather than choosing the ATM drive-thru. The more you practice waiting, the more you'll be more equipped to practice patience in real-life situations.
DENISE!!! (and your dad!)
If I ever feel like having something savory
for breakfast (I am on a sweet, peanut butter kick STILL) I will definitely give this a shot (This may be more of a lunch for me, I tend to go towards sweet for breakfast ALL the time)
Ingredients:
7 oz (2 links) sweet Italian chicken sausage, removed from skin
olive oil spray
1 3/4 cups part skim mozzarella, shredded (for gf, check labels)
1 tbsp olive oil
1/3 cup chopped shallots
5 oz sliced shiitake mushrooms
1 cup chopped roasted red bell peppers (from a 12 oz jar)
1 1/2 cups finely chopped broccoli florets
8 large whole eggs
4 large egg whites
1/4 cup fat free milk
2 tbsp grated parmesan cheese
1/2 tsp kosher salt
1/4 tsp ground black pepper
Directions:
Preheat the oven to 375°F. Spray a 9 x 13 baking dish with oil. Place half of cheese into the baking dish.
Spray a large nonstick skillet with cooking spray, cook the sausage over medium heat breaking up as it cooks until browned and cooked through. Set aside.
Add the oil to the skillet with the shallots and mushrooms and saute until vegetables are tender, about 5 to 6 minutes. Add the broccoli and return the sausage; mix well and remove from heat. Spread evenly over the cheese mixture.
In a large bowl combine the eggs, egg whites, milk, parmesan, salt and pepper and whisk well. Slowly pour over the vegetables in the baking dish and top with remaining cheese.
recipe here
I really want to try this JUST FOR TODAY
Powered By CoSchedule
3 Ways to Determine Your Just-For-Today Goal:
1. What area in your life do you want to improve?
Could you break that change down any further? It's likely a behavior change that would allow you to make much more progress toward your goal, but also one that you're very resistant to change.
2.What is your biggest obstacle to achieving it? How would you remove that obstacle?
One popular behavior that I see a lot for this is dining out. This one is tough because it's often not 100% up to you. However, try not dining out just for this week. Then next week, try the same thing. Perhaps you could suggest to cook for a friend who wants to grab dinner, or suggest a movie or a bike ride instead,
3. How would you remove it just for today – or just for the week?
I know my just-for-today goal is skipping the glass of wine with my dinner. I love wine – I always have, and likely always will. Tell me not to drink wine for a month? forever? I'm likely to laugh in your face. However, ask me to skip the wine just for this week, and that I can handle.
 UNCLE JIM!!! I saw this article
and immediately thought of YOU!  If you decide to do this, let me know if you would like an assistant! I will offer MYSELF 🙂
Your Turn
1.  How do you display your holiday cards?
2.  How can YOU connect with someone this week?
3.  One small to-do that has been hanging over my head and making me feel icky is _____________
4.  What is your Just for today goal??