Happy Un-Manic Monday and Happy Martin Luther King, Jr. Day!
The number ONE reason MY Monday is un-manic………..I am off from work today! As much as I love my job, I will never pass up or complain about a 3 day weekend, Lily will agree ❤ (She loves me being HOME, what can I say!?)
UN-Manic Best read of the week!
25 ways to stop feeling overwhelmed and overworked
Discuss:
Let go of the need to feel important.  We are part of a culture that thrives on feeling important through busy-ness.  We live in a society that chases money and fame.  We have a crazy need to be popular.  It's a trap that keeps us striving instead of thriving.  It's a choice that brings on feelings of overwhelm.
I have been working very hard to let go of searching for approval from others. Whether it is my family, friends, boss, etc.  I am capable of making my own choices and decisions. If they are wrong for me, I will learn.  I will do things for me, that are best for me and my students (or family, friends, etc) without the need of justification from anyone. Just being me and knowing my purpose IS enough 🙂
UN-Manic
ways to get and STAY organized. (Robin, I know you will want this too!)
I want, want, want this notebook/calendar/planner BADLY!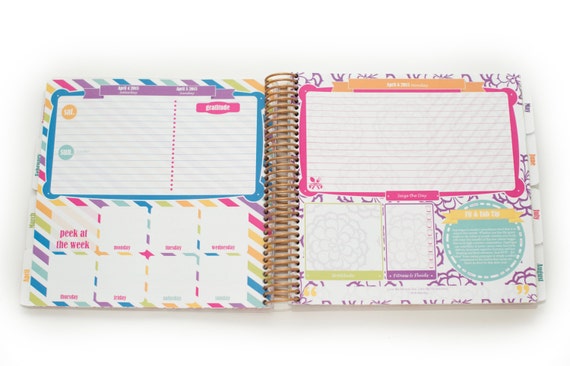 The colors, the tabs, the lists! I could use this work work, school, personal stuff, meal planning, and who knows what else!! Like I always say, iphone and technology are GREAT, but good old fashioned pen and paper lists/to do/charts are still my way to go!
Here are a few of the featured highlights ( I love the whole positive, healthy vibe!)
Highlights:
A page for every weekday
Focus on gratitude for the abundance in your life
Weekend page includes a peek at the upcoming week
Start each day with a motivational quote to align your heart and mind
Organize your daily tasks and to-do's to maximize productivity
Track your food intake if desired using two varieties of trackers (samples included)
Track your time in hourly intervals for those extra busy days (samples included)
Record physical activity and hydration each day to keep it a top priority
Expand your mind daily with a new Fit & Fab Tip
Utilize quarterly check in pages to monitor your personal development during the year
Integrated monthly calendars and goal setting make planning ahead more effective
Want one for yourself? Heres the link   (If you order, just go ahead and add 2 to your cart, Ill gladly take the extra off your hands 🙂 )
UN-Manic
I had to revise, because what I am about to say, is pretty manic 😦
I am sad to inform you , my readers, family , and friends that Bruiser is no longer with us.  Bruiser seemed to be enjoying the transplant of his new weekend home. He was lively, swimming, eating and enjoying life. This morning, the unexpected occurred. I found Bruiser lifeless at the bottom of his tank (I though fish floated when they died?!)
I feel terrible. I am not sure if it was too traumatic for him transferring fish bowls from home to school, school to home, or what? I thought I did everything write. Distilled water, food, love….
I have not decided if I am going to tell my students, or just "replace" (I know I am awful)
Bruiser lived a short, yet fulfilling life.
He leaves behind 2 caring teachers, 6 students, 1 step-sister dog
In lieu of flowers, Bruiser would be happy to have donations made in his honor (and to help save the lives of other animals in need) here
Some memories…..
UN-Manic
Thought:  I am beginning to enjoy learning about history 🙂
UN-Manic
Hunter Boots ❤
So, I found a pair of Hunters at Nordstrom rack yesterday. I am quite pleased with myself and the purchase.
I wore them last night for the first time and LOVED them. My feet stayed dry and warm all night (We had torrential downpours!)
I am not completely crazy about the color choice, but my red was not available. I may keep my eye out for a better color choice, these just do "nothing" for me.
SEEEEEEEEEEEEEE mom, I CAN wear them with a skirt 🙂
 Your Turn
1.  What is something you feel like you NEED to feel important about (Do you feel the need for others to tell YOU that you are a good friend, wife, mother, worker)?
2.  Do something anonymous today , that makes YOU feel good, without the recognition of others.
 3.  Tell me 3 things you did this weekend!