I grabbed up my $18 Whole Foods Beauty Bag on Saturday! ❤
I could NOT wait to use the items inside!  All of the items in the beauty bag are currently things I like/use, so it was perfect!
So I pretty much ended up trying MOST of the items in the bag. I will review the ones I have tried so far, in case you are JUST as eager as I am ❤
Grade:  A+
Salon-quality skin treatment with Dead Sea salt and volcanic sand
I absolutely LOVED this product. I think it was my favorite. I was JUST thinking how I needed a good exfoliator for my skin (i have such icky clogged pores)
This smells fabulous, was not too harsh, and left my skin feeling fresh and radiant! I really felt like I was GLOWING!
If you have dry, sensitive skin, I would avoid using this product. My skin can handle some abrasion. This stuff is abrasive, may be a bit too abrasive for some, especially if you prefer a smoother exfoliation.
This reminds me a LOT of Dermalogica gentle Cream exfoliant ($41.00 for 2.5 oz at Ulta)
Ulta carries Derma E Microdermabrasion (2 oz @ $23.99! 🙂  (I am sure you can also use a coupon!)
Grade:  B 
Versatile moisturizer with rosehip seed oil, marula oil and orange flower
This facial/decolletage cream says "non greasy" however it was a bit "greasy" for my preference. I like to feel my product SOAK into my skin. I never liked the feel of excess moisture. I already have oily skin. I know its important to keep oily skin moisturized, but this seemed a bit much. It is all about preference and your skin type
The PRO'S:  It smells FABULOUS!  It makes my skin look great and GLOW (But I just cant get over the heaviness I feel)
The CON'S:  You need a lot to spread it on, and it is a bit "greasy". Therefore I felt like I really needed to use a lot of this. A little bit definitely does NOT go a long way.
Overall, I may give this a shot for a full week and see if I change my mind.  I have only worn it twice and at first I do not like the feel , but after a few hours it feels really nice and gives me a healthy glow.
TO BE CONTINUED…..
Grade:  A
Gentle and effective formula with plant waxes and vitamin B-5
I absolutely LOVE this mascara and WILL be buying it. It goes on perfectly with ease!  It does not clump, and it makes my lashes look long and lean!  I love how easily and smoothly it glides on and more importantly I really like the applicator. I felt like I had a great grip and it fit well into my hands. The applicator was not bendy, it was very firm, which I need. I hate a flimsy mascara!
I have used and LOVED the more expensive mascaras like: Tarte, Benefit and Too Faced. They average about $20 – $25.
Gabriel mascara comes in a bit less at $15.20 🙂  Its worth the splurge!
Giovanni 2chic Blackberry & Coconut Milk Ultra-Repair Shampoo
Botanical compounds pamper damaged, overprocessed hair
Grade:  C
I really wanted to like/love this shampoo, but I just couldn't.  I did NOT like how it weighed my hair down. I did not give me a nice, clean, full feeling after I had blow dried. It just felt limp, mostly at the roots. The rest of my hair looked and felt great, however I was not a fan at how it pulled at my roots , removing any lift I try to put in it.
The smell is AMAZING!! Yum, it really does smell incredible, which is another reason I wanted to love this.
This might be a good shampoo to use at the beach. I definitely think I would (and my hair) would love it much more after a day of sun and sand……This definitely would help put the moisture right back!
SO again, for my hair type, this was not ideal. I will have to try it at the beach this summer and see if I have a change of hair, I mean heart….. 🙂
Still have not tried….
Acure Cell Stimulating Facial Mask
Purify, moisturize and renew with French green clay, sea buckthorn oil and Moroccan argan stem cells
AND I am a bit disappointed that this did not come in my bag 😦
Pacifica Eye Shadow Duo or Lipstick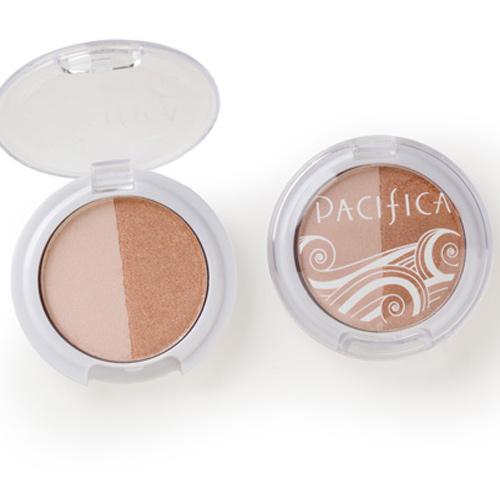 Rich, long-lasting color without parabens
I am going to call and see if my bag was maybe a dud, or if this store just was not offering it in the bag.
I am happy to say that I have found a few new products that I will be adding to my beauty routine 🙂  I also love the fact that they are organic, free from harmful chemicals, not tested on animals and cost much less than similar products I have loved in the past!  ❤ ❤