Today I am #grateful for getting lost in DragonFly in Amber (Book 2 of Outlander). I love a good LOVE story!
UnManic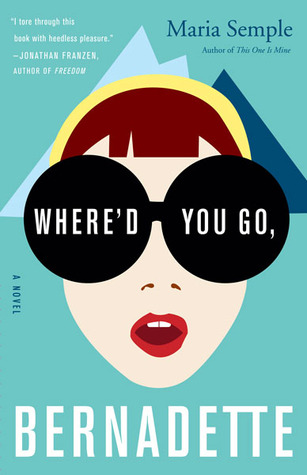 I heard a lot of hype about this book, so I decided to read it. I gave it 2 out of 5 stars. It was a cute, very light read but I had a hard time relating.
Its a funny little story. It begins portraying the craziness and scatterbrained Bernadette (ok, maybe I can relate here). The neighborhood thinks shes a nuisance, her husband is convinced she has lost her mind, while her daughter, loves her unconditionally. Bea, the 15 year old child, is a wonderful student in the midst of leaving for boarding school (on her own terms! She insists on going) With all her hard work and near departure, she decides she would like to visit Antarctica (of all places) with her family.
Bernadette (Bea's mom) used to be a well known architect, but as of late with life's ups and downs, has become pretty anti social, almost avoidant of all people and social situations presented. Therefore Antarctica just sounds terrible. She hires an online "travel" agent to assist her in ALL aspects of booking this trip, from flights and hotels to crazy sea sickness medicine requests, boxes upon boxes of polar gear arrive at the house , as well as …….detectives.
As the trip nears, Bernadette disappears. Her husband schedules an "intervention" to have her "commited" to an institution (pretty much) and she vanishes. (Do you blame her, can you imagine your dear hubby sending you off to the looney bin!)
The book is written in back in forth emails in a mostly silly fashion. Some real issues arise such as infidelity and insecurity, so it is not all just a "fun ride"
I liked the emails back and forth, but that is pretty much where my "like" of the book ends. I can see how some people would enjoy this, but for me, it just did not quite hit the mark
In case you would like to visit Antarctica, check out this pretty fabulous trip HERE
IN HAPPIER BOOK NEWS….
I got RElost in the 2nd Outlander book today, Dragonfly In Amber and am really enjoying it!
UnManic
Feeling Excited for:
Starting my new book with my friend, Hollow City. It was FUN and motivating to read our last book together. It gave me the push to get through it and really be present
UnManic
Feeling manic about:
My move. Yes all parts of it. I am at the point where I just WANT to leave because I am torturing myself being in "two places at one time"
My mind is confused. I do not know WHAT to do or think next. I am constantly fearful of forgetting something. This is sort of it. I am leaving things I love behind and moving away. Its not like when I fly for the weekend and forget my bathing suit and can come right back and find it.  I am panicking that I am going to forget things
BUT its much more than that. I am panicking about EVERYTHING and just taking it out on the little things.
I am really trying to remain focused and positive and make this more of an "adventure" than a chore, because as y'all know, I can be a Diana Downer
UnManic
Feeling worried
That I will NOT have enough energy to get through my move. The stress is hindering me. I want to relax.
I used to feel this way with running. I ran for 10-15 years and not once did I ever stop during a run, YET the fear that I would NOT finish was ALWAYS there, every. single. time.
Well its back, but it has manifested in another way…..the fear I won't have the energy to move, pack, unpack, drive, lift, boxes, organize, clean, etc.
I know I can do this, my stress and anxiety are what are causing me to feel so weak.
UnManic
Realization?
I am trying to do too much. Yes, this is WHY I feel so tired and exhausted
I really want to focus on cutting down my TO DO list to 3 things and REALLY giving them my all. What I am currently doing is NOT working. I am trying to do too much and in turn have NO energy or motivation to do it.
UnManic
New toothbrush heads! I have been constantly forgetting to pick them up with each visit to Target (I was there 4 times this week and forgot them, along with the toilet paper, EVERY SINGLE TIME. Not tonight though!)
This is how I feel!
UnManic
Have a few spare cutting boards laying around? (LOLOLOL)
Here are 10 Things You Can Do with them!
Speaking of cutting boards, I am investing in some new ones with my move! Any recommendations?
Also, towel recommendations please!!!
UnManic
This really does make sense of the saying "Love/Hate relationship"
I am trying to be grateful and truly enjoy all the moments I have with people and not allow their differences to damper my mood or irritability.