some time off
and
an itch for adventure. ……….
What do these things have in common?
Ah Canada 🙂
In 1978, my grandfather (jah-jah) decided to purchase some lots of land in Canada.
At the time , the "project" had big visions of becoming a marina.  My grandfather had dreams of providing his family with some special places to enjoy. Sadly this dream never happened BUT the curiosity and hope led my parents and I on a family adventure (and trek) to Canada to see if we could finally get some answers to our "Mystery land".
For years my family had been trying to locate and obtain information on the various lots scattered around Canada.  With some internet research and a little help from our friends, our journey took us about 15 miles south of Montreal , to a little town called Saint Philippe
Here , in Saint Philippe, we stayed with our gracious and generous hosts (air b&b) and not only did they provide us with a fully equipped apartment (so cute and cozy) but also assisted in helping us get answers to our "mystery" land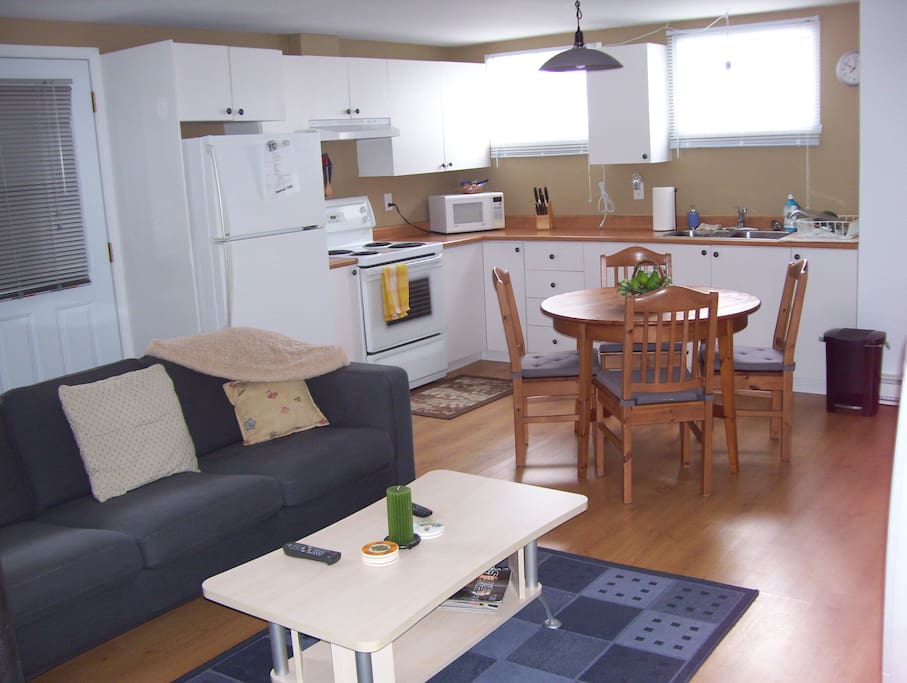 Dad, don't have TOO much fun!! :)~ 

All over Canada they had these cute little roads for pedestrians and bikests!  I love how bike friendly they are! Cananda sure does do it right!

I really enjoyed my daily early morning walks because of scenery like this
Carole (our hostess) answered my early morning texts and graciously offered to come down to our apartment and help us look at the maps! She pointed us in the right direction and gave us the municipality info that we needed to contact!! She knew almost the exact location of our "land"!!
So here our adventure really began….
We arrived Saturday evening a bit exhausted from the drive and rainy weather (stressful drive in the down pours!). Carol greeted us and showed is our lovely accommodations for the next few days.  There were fresh home made brownies waiting for us on the table as well!
We settled in, unpacked and drove to a local grocery to grab some items for dinner and the week
The grocery was amazing! So clean (like all of Canada!), Fresh produce,   Everything we needed and more
TIP ****I suggest changing your money to Canadian dollars prior to arrival because we had difficulty using our credit and debit cards in the smaller towns. Our US dollars were accepted but not at the exchange rate so we ended up losing out a few dollars.  On our way home we found an ATM which allowed us to (very easily) exchange some $$. You live and you learn 🙂
We came home and my mom made the BEST dinner (chicken ,steak, salad and sweet potatoes). After we settled down and began what became my favorite activity…..watching the 2016 Summer Olympics!  I could not wait to get home each evening and relax while catching up on all the games (go Poland!!)
Exhausted we went to our cozy rooms and hit the sack to prepare for another fun and full day!
SUNDAY
We wanted to take care of our land/lots FIRST, however it being Sunday, we knew everything would be closed. So we got up super early today (and EVERY day) and set out!
We  DID stumble upon our first Tim Hortons and….woah!  The coffee and pastries/donuts are surreal! This quickly became a daily go to for us 🙂 I highly recommend their coffee, and as a quick, inexpensive "to go" breakfast spot!
Being a bit rainy and wanting to avoid the Montreal weekend traffic we opted to ride along the Montreal wine trail (Info here!) to get a feel for the beautiful area!
There are several different routes, but having just driven the previous day, we opted for the scaled down "Le Triangle" wine route. "Le Triangle" was 32 km of wine trails (the shortest of the routes). The itinerary suggests doing it in 3 days (see below)
LE TRIANGLE, DUNHAM, FRELIGHSBURG AND STANBRIDGE EAST
3 days
Routes 202, 237, 213
In the actual heart of the Wine Route, this triangle merits more than a day of touring.  In addition to a grouping of 10 vineyards, there are blueberry and small fruit growers,  orchards with apples and their derivatives, honey and the mouth-watering aroma of freshly baked bread …so many things to impress your – and your guests' – taste buds! Your eyes will be in for a treat, too, because this outing takes you along a countryside that's bucolic and jaw-dropping.
Day 1 : Clos Ste-Croix, Vignoble Les Trois Clochers, Domaine des Côtes d'Ardoise
Lodging in a bed and breakfast in Dunham or Frelighsburg.
Day 2 : Vignoble Gagliano, UNION LIBRE cidre et vin, Vignoble de l'Orpailleur et Château de cartes, vignoble et cidrerie
Day 3 : Clos Saragnat, Val Caudalies, vignoble et cidrerie, Vignoble Centaure
Yet
 we crammed it all in one day, since we were sober and not drinking, but more in it for the scenery and experience 🙂
It truly was a beautiful experience!
  Blueberries!! (Bleuets) quickly became our FAVORITE fruit of the trip!  Mmmm


This was probably my favorite place!! There was an outdoor sculpture garden but we opted to skip it and just take in the lovely landscapes!
After the wine trail we decided to drive around the recommended  Quatier Dix 30  (an intersection where routes 10 and 30 meet which is FILLED with shops and restaurants!!)  It was Sunday evening, so everything was closed, BUT it was really cool to see and of course, all the restaurants were buzzing!
Yet, mom wanted sushi, so sushi it was. We went to Sogen based on a recommendation and the sushi really was superb!
After another long day we grabbed our food to GO and set off for our Olympic watching tradition  (still my favorite!!!)
MONDAY
Monday morning we ventured out early to the municipality to get some info  AND ease my moms mind so that we could enjoy the rest of our vacation. Unfortunately we did not get far, as the woman we needed to speak with would not be available until the following day, Tuesday.
So we decided to get an early start on our Montreal City trip .
MONTREAL !  We had been to Montreal city when I was younger so I thought it would be wise and fun to explore the old Montreal city this time around!
We parked our car at this terminal (for $7 (US),  purchased tickets (combo train and bus which was a great and easy travel idea! For $10  we had 24 hour access to train AND all buses!)

And were off!
We began our day with a quick cafe stop for coffee and a light breakfast here.
****Those of you that do not know my family very well, need to understand something………we drink a LOT of coffee and, my father is a bottomless pit that needs to be fed every 30 min.
Next we worked our way up to the #11 bus to take us to the top of Mt Royal! I really wanted to see the views, plus get a bit of walking in before we had to feed dad again! All were successful!  Plus the adorable squirrels entertained us quite well! (we saw an albino squirrel)
After some exploring, we took the bus back down to Plateau Mont Royal, which is the location of famous shops, boutiques and of course eateries!  I had planned a walking tour for us, but first, we had to feed dad 🙂
On the agenda was Schwartz for their famous smoked meat sandwiches!
We tried the turkey which in my opinion was a bit salty and tasted more like ham?! It was good, but we have had better (Sorry don't be mad Montreal!)
Dad had the original smoked meat sandwich. I turned my head for a minute and it was entirely gone, so mom and I were unable to try his…….
We all agreed we had better, BUT all in all, we had a great experience (We went in the "To GO" line and placed our orders, because the restaurant line was even LONGER!)
I agree it is NOT worth the wait, BUT you have to try and experience for yourself!
Saint-Laurent Blvd was filled with lovely art on the sidewalks and walls!!  It was so much for to check out the graffiti!
Finally we were ready for our walking tour to begin!  I used this as my baseline for the tour and really made sure to hit all the spots I wanted to see, AND we did!
It was nice to do this on our own, so that we could enjoy and really take in the beautiful flowers, streets, buildings, shops and eateries along the way!
We even walked through a little park which was so refreshing!
I loved all the bikers in the area too!  I stopped by Maison De cyclistes and it was FILLED with information for biking, maps, routes, products, helmets…….etc!
Oh, and the men!  Oh, the men of Montreal!!! 🙂
FYI this is a stock photo, I did not really snap this photo myself!!  (sorry ladies!)
My parents were SUCH troopers!  They hung in there with my crazy busy and long walking tour 🙂  We stopped several times along the way for coffee's, drinks, and just to rest.
When we had finally finished our tour and had enough, we opted again to get some dinner to go!  There were so many fresh bakeries and shops we grabbed some cheese, baguettes and pate and headed back to the train!
TUESDAY
Again we set out early to make the most of our day, and of course, get the info we needed about our land!  The woman we needed to speak with was in a meeting and we had an hour to spare, so we did what obviously any other normal family would do………go to Tim Horton's! 🙂  (A 100x better version of Dunkin Donuts! for those unfamiliar!)
When we finally arrived at the municipality, they were very apologetic and ready for us! We were helped by a wonderful woman who adorably was shy about the quality of her English (which was incredible by the way!!) It was not easy to obtain the information we needed due to several facts. First the law was changed in 1978 Canada deemed our land agricultural ONLY. Our lot was literally located in the middle of a forest. This was the closest we got which still was not really near it

Turns out the "project" had big plans that involved a quaint family oriented marina! How cool would that have been! We are still interested in finding out what happened and why the plan never took off.  However the municipality was able to answer all questions and give is great suggestions of our options on what to do with the lots/land.
Satisfied, we were now ready for the next part of our adventure. Off to Old Quebec City! (Stay tuned for part 2!) Waterfalls, more walking and the most beautiful and romantic city!