Mornings are my favorite time of the day.  Mornings in Boulder. EVEN BETTER
The weather and temperature in Colorado is amazing.  It is a drier heat for sure, however not once did I feel dehydrated. I made sure to drink A LOT of the cool Colorado water and slathered up in lotion for my face and body.  Plus tons of lip protection.  I felt GREAT
The place I was staying had a few "cruiser" bikes for me to play around and explore town in. So that is just what I did  Grabbed coffee at home (from my keurig) and set out.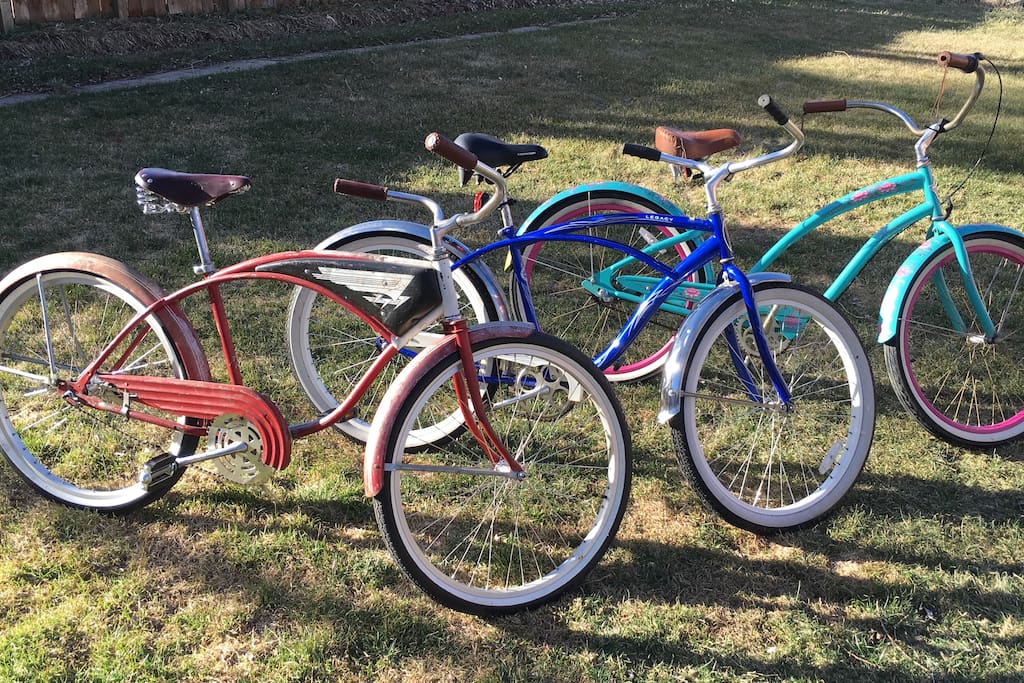 Can you guess which one was my baby?
I was really about to see how beautiful really was. I was ALSO able to see how HILLY  Mountainous it was.   Initially, I had thought of taking my little cruiser on a leisurely ride up to the top of the mountain………..L O L!
Yeah, so after about an hour of cruising the lovely hills  mountains, seeing shops, restaurants, people and dogs of Boulder, I had a hearty breakfast and rented a road/mountain bike from Full Cycle on 17th and Pearl. I worked with Nolan who set me up with a great bike, helmet and a nicely mapped route where I would see the highlights and sights of Boulder (men included! hubba hubba! :)!
I was set up with this baby (Road Bike – Felt VR3W 2017)).
I am NOT used to road bikes, AT ALL. In fact, I have NEVER ridden one. Holy  &#$#$!@3!!!!!!!  These babies are FAST!
The seats HURT (my bottom is STILL Paying for it a few days later) as I was not properly attired with padded shorts (Ouch) But it definitely allowed me to see some sights!
Here is the ride(Lefthand Canyon) I did……..well give or take. Nolan's wonderful route and directions were NOT Diana proof.  I got lost in town, ended up in the college area which is nowhere near the trail…….but anyway, my little secret.  I made it. It was HARD. I had to get off my bike a few times and walk up the steep hills.  I ended up going to wrong way (Which Nolan warned me about, and I went this way….oops) so I dealt with steep hills. BUT What goes up MUST come down…….and BOY did I come down.
I just kept thinking "IF my mother knew I was doing this she would KILL me"  It was scary!  Fast.  Slippery (The dirt along the mountain side made my slim tires very slippery)  So I went down fast, BUT not nearly as fast if I had let go of the brake completely.  Maybe next time I will free fall!
The scenery, sights, and sense of accomplishment were WELL worth it. Not to mention the friendly and helpful bikers I saw along the way (I think they thought I was in need of an ambulance a few times 🙂
I met a very nice man who offered to have me ride with him a bit. I turned his offer down because I was already on the road past my planned time, and I decided to head back down. I will NEVER forget the ride OR the things I saw.
NOT the guy that helped me, just a stock picture 🙂 But seriously, EVERYONE is super friendly and helpful
THESE ARE ALL MY PICS
NOT my pics below but from the trail
I headed back to town, parked my bike and had the most amazing lunch at Shine (another recommendation)
I sat outdoors both times on the patio and people watched.
This was by far my favorite place. From the atmosphere to the food. YUM.  I had lunch here twice. The burgers and fries were so delicious!  This is also a bar and has a pretty awesome happy hour as well as a pretty awesome night life 🙂
Shine also has these "potions"
What are potions? Your guess is as good as mine. I did not indulge but if you are more daring
Shine Potions are enchanted beverages intended to help you playfully transform your experience of life. Through a harmony of nourishing herbs, vibrational essences, sound-frequencies and more, we tune each potion to be a specific intention, one that is ultimately fulfilled by our most important ingredient: YOU . For all that we put into our Potions is but a reflection of the power you already contain. In other words: THE MAGIC'S IN YOU
interested? Check out all the benefits and different types here
Next I biked over to The Laughing Goat to charge up my cell phone and grabbed an iced coffee (Organic, fair trade)
.
The coffee was delicious!! If I were here longer, it would quickly become a regular spot.
Also, there is live music here pretty much every night!  Pretty hot spot!
By this point, I was barely staying on my bike. I rode around town a bit but was finding I was not enjoying myself much because ……….I was TIRED and sunburned. So I rode around until after 6:30 returned the bike and headed back to shower and eat.   By the time I had dinner, showered, checked my plan for Thursday it was pretty late and that bed……….OHHHHHHHHH that bed looked so comfy 🙂  So, you know what follows…..
**Quick mention, the area had some GREAT local places that really helped me grab the necessities I needed (fruit, drinks, yogurt, milk, etc)  It was a Whole Foods in disguise, called Ideal Markets. It literally was Whole Foods, the baskets and carts said "Whole Foods". The only difference was it was half the size, which meant half the choices, especially with prepared foods.  It was also less than 2-minutete bike ride from the house. Perfect 🙂
So Day 2 was a wonderful day. I saw so much and met so many wonderful people. Yes it was a "pain in the ass" (LITERALLY) But so worth it !
Stay Tuned for Day 3 – Hiking