That's all I ask of you"
Thinking…..
Shame and guilt consume my days and I am working towards making it less so. The way that helps me is saying things out loud to the world that gives me shame/guilt. Sure no one else may care, but it is what I need right now at this point. Usually, when I feel that first ounce of discomfort or pain, I push it away with busy-ness. Yesterday that ugly feeling overcame me, and I let it. I acknowledged it as just a feeling and was able to move on. The first time it popped up was while I was at yoga. During classes, the teachers will go around to students and offer assists. I LOVE getting assists and being touched (shame). It feels excellent and makes me feel that someone CARES about me. I have difficulty with allowing people to touch me and this has been a huge step for me, yet I feel shame. I feel bad that I enjoy it. It makes me feel icky and wrong but it is not.     I am allowed to experience joy, we all are. After that, the next time guilt/shame reared its ugly head was my decision to clean and plant flowers on my balcony ALONE. Initially, I asked my father for help, not because I NEEDED help but because I wanted HIM to feel needed. Yet, it was a beautiful day, I was not feeling rushed, I wanted to continue this pattern without breaking the cycle. My father is very stubborn (like me) and I knew if he was involved he would try to do things his way, which would leave to either an argument or me keeping quiet. I decided to do it on my own and continue to enjoy my calm and slower pace. I immediately felt shame. I acknowledged it and moved on. There were many other moments throughout the day but I continued to acknowledge and move on. One day at a time……
I need to practice being more optimistic (read more HERE). I am tired of the permanent scowl on my face. It hurts. This article is a great reminder of the messages all around us! Interesting article and something to experiment with! What's Your Optimism Ratio?


                                                      This is a more accurate representation of how I typically feel. Thinking. Wondering, Planning. Tuning out the things around me. The smiles? They are for pictures.  Not an accurate representation (not saying I am miserable and depressed, this is just ME)

Being Overambitious is Making You Less Fun to Be Around


Quoted from the article:

Overambition is the Thief of the Love For The Moment and Life Itself

Definition of Overambition: a state of self-induced attachment to an aim that serves to turn the present moment into nothing more than a cheap stepping stone.

Definition of Healthy Ambition: Approaching life with intentions that elevate both your present and future.
Dream Life…..
I need new sneakers. Mine have a hole in the toe….. I am eyeing these (sustainable!) sneaks, can't decide on the color, "Glacier" or "Butter" (leaning towards Glacier)
If I ever visit Idaho, I really want to stay in a ………potato. Yes, that is correct, Big Idaho hotel air bnb 
Reading…..
April 27 is National Independent Book Store Day
I mostly borrow my books from the library, BUT if you are thinking of purchasing a new treasure, make sure to support a local book store (Love Inkwood in Haddonfield, NJ)
What I read:
One of Us is Lying – Grade:  D +
This expresses how I felt while reading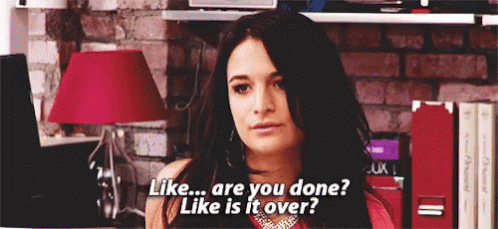 If you like/love YA (Young Adult Fiction) You will probably enjoy this. I just ….DON'T. I need to accept it and STOP reading YA!
And this is how I felt when I finished the book…
All The Ugly and Wonderful Things –  Grade: B+
Dark. Sad. Depressing, crazy.  Such a great book!  Trigger warning, this may be difficult for those that have dealt with abuse in any form. Read with an open mind. This would make an EXCELLENT book club discussion!
November 9 by Colleen Hoover :  Grade:  A 
I can't say enough about Colleen Hoover. Her books surprise me every single time! They are so different!  I loved this story about acceptance and love with an unusual and unforseen plot twist!
What I am Reading Now:
The Girl He Used To Know (have to wait for the copy to become available again as I did not finish it in time)
Watching…..
Out for depression. In myself AND others.  I have struggled with depression my entire life. It is SO exhausting and tiring.

I am tired of it.

I feel like I am on a roller coaster, ups and down. I am sure I am not much different from you or anyone else. We all experience these feelings and emotions. This is a great article, PLEASE read it if you or someone you know is experiencing depression
How society is now manipulating us by easing away from the word "Diet" BUT disguising it as "wellness" or "Self-care". NOPE, not going to buy into it. A FASCINATING read and can relate on SO MANY levels!
According to Christy Harrison, a registered dietician and host of the popular podcast Food Psych, "Diet culture is a system of beliefs that," among other aims, "worships thinness and equates it to health and moral virtue," "promotes weight loss as a means of attaining higher status," and "demonizes certain ways of eating while elevating others."
There is not a day that goes by without mention to the "Obesity epidemic" or how "Americans continue to get fatter", yet the problem with these reports is that it fails to portray any sort of reason or balance. Who said FAT is bad? Fat has nothing to do with your health.  That is a proven fact. Losing weight and "thinness" does NOT equal health. What is being forgotten is that emotional health is a HUGE factor.
Take a few minutes. READ THIS . Ask yourself…….I constantly question myself with these
Are my choices around food guided by rules that aren't medically necessary? Could I instead explore what it means to listen to and heed my body's desires? Is my fitness practice transactional—one in which I exercise so that I'm allowed food? What might it look like to engage in movement from a place of excitement, rather than penance? What are my motivations for how I eat and exercise? Do these routines make me happy in and of themselves, or do I see them as a means to an end? We're taught to do so many things for the end result. But what if we just did something—ate a cupcake when we craved one, took a passive instead of a strenuous yoga class—because it brought us joy?
Grateful For…..
Time off. I loved having off this week for Spring Break. It was a mix of productivity, time spent with my parents and lots of thinking, reading, and yoga'ing ❤  I thought I would feel less "introverted" but I do not. I definitely love my quiet time! Finally some peace! Trying to soak it up as much as I can before walking back into the chaos!  3 causes of Introvert Burnout
From Monday's excursion to the Mutter Museum #coffeechalk'sDAD. My favorite  STILL is the wall of skulls (description of the person and cause/way of death is included)
Spotted during my walk, full bloom!
Inspired By…..
The men I have dated and the relationships I have had
I am so grateful for all the experiences I have had. I have been married and dated throughout my 38 years. Each person and experience was a lesson, bringing me to where I am at today. I have recently actively stopped dating and looking I have been taking time to explore myself as well as the many lessons I have learned over the years. I am finally seeing what has been holding me back. Acceptance Of myself. All of my romantic relationships have had one thing in common. I was not genuine or true to myself.
I have settled for things and turned the eye on things that were deep values for me.
I have said yes to many things I did not want to do
I have agreed to things I did not find agreement with
I have not texted or called for fear of seeming needy
I have spent time trying to pick the perfect restaurant or place for the other person. Not me
I pretended I enjoyed sports. Late nights and sex more times that I'd like to admit
I did not speak up when I should have for fear of seeming "difficult"
I let things continue and go on longer than I should have, trying to convince myself there was something wrong with me for not liking this "perfect person"
I have felt fat, ugly and undesirable and kept it to myself
I held back anything that made me seem selfish
I did not speak up when something did not feel good or right                                                    I have minimized myself and accomplishments in order to not hurt the other
I have hidden the things I love to eat in fear of being judged as overindulgent or weird
I have worn things based on what I think they would like
I have shaven my legs when I didn't feel like it
I have spent money on things I would not normally spend on
I have said sorry for things I was not certain I should even be sorry for
I have changed my mind but kept quiet for fear of being called unreliable or wishy-washy
I slowly acknowledge these things and am practicing being true and genuine to myself and others around. Even if it means walking away or being walked away from
I will not be quieted or do anything that does not feel good to me or my body and that is the one thing I can be certain about that feels good . You don't own me…..
I am so thankful for my past, BUT I choose NOT to carry it forever (read this here)
Creatives CHECK THIS OUT!  I am a "maker" (I am determined and will get things done. I struggle to listen to my intuition and experience joy. YUP)                                This was so much fun (and visually appealing) to do!
Sharing…..
This is a new section. This is SO hard for me. I hate, hate, HATE, sharing things I love, use, etc. I think deep down I feel it will take something away from me, my uniqueness. Yet I constantly remind myself, there is enough uniqueness in the world that I can and WILL still be me (reality check!).  If someone else can experience the joy I do, why not share it!
The comfiest sports bra I am currently loving, it is from Target (not sustainable 😦 )  But it is priced right at $16.99. It is seamless and oh so comfy!  It offers just the right support and coverage too!

The Ordinary skin care products! I recently purchased a bunch of items from The Ordinary, which is a lovely skincare company, that is priced Right!  Stayed tuned for my reviews. So far, I am in LOVE with Marula Oil!!! I am hoping it works well for me because I love the glowy hydration, but this has me concerned ….

Organic Marula oil has been used by North African Ovambo women for centuries as their secret "elixir of youth" skin care weapon. The oil is derived from the nut of the South African marula fruit (said to contain over four times the amount of Vitamin C as an orange) and offers benefits to just about every skin type. High in oleic acid, organic marula oil is easily absorbed by dry skin and provides hydration throughout the day by preventing water loss without leaving an oily residue. The Vitamin E, phytosterols, amino acids, and the powerful antioxidants found in organic marula oil create a potent anti-aging elixir which boosts collagen production and fights free radicals. Because of Marula oil's high Vitamin C content, continuous use has been shown to significantly improve skin elasticity and (with the aid of monounsaturated fatty acids) even reduce the appearance of cellulite. Marula oil has a comedogenic rating of 3-4, which gives it a high likelihood of clogging pores. If your skin tolerates coconut oil well, then you should have no problem using organic marula oil. Otherwise, try using marula oil as a light night mask or spot treatment at first to see how your skin reacts.  Pure organic marula oil is rare and can be quite expensive
YOUR TURN
 Have you signed up below to follow coffeechalkblog? If not WHAT ARE YOU WAITING FOR, do it, for your chance to win a copy of "The Idea of You"
What is something you feel shame about?
Are you satisfied with your own "wellness" outlook and thoughts?