with ourselves because we know that honesty will lead to somewhere." I wrote this ten years ago. "Can fear walk us to something better?"
~ Jessica Simpson, Open Book
Reading
Read
 highly recommend this is you are (or aren't ) a fan! This brought back so many memories as Jessica Simpson was a huge part of the era I was growing up! She writes realistically by revealing many things we never knew, from her heart. Hearing her share some of her experiences, made me realize how I have slighted myself with some of the same things that have happened to me, always just telling myself to "toughen up" or that "this sort of thing happens to everyone". A reminder to be gentler with myself and stop making excuses for others.
*highly recommend listening to the audiobook as Jessica narrates herself. I do feel the need to add that at times, I did catch myself rolling my eyes about some of the narration as it did feel a bit unauthentic, BUT, I am very critical of myself (and others I suppose) so please take that with a grain of salt. Nice work Jessica!! I ❤ you!
This was my first book club read and it was a HUGE hit!! A few girls and I met to discuss this and it was a hit all around! This is a great book club topic ! Long Bright River takes place in Philadelphia and deals with the ongoing opioid crisis. Highly recommend and it is fun to support books from our area!
The sequel to "The Tattooist of Auschwitz". Sadly my audiobook rental ended before I was finished AND I was enjoying this. I will have to pick the actual book back up and finish! Hopefully this week??!
Currently Reading
My April book club pick!
Catch and Kill: Lies, Spies, and a Conspiracy to Protect Predators 
I am not a huge NonFiction fan, it has to be REALLY interesting for me to grasp my attention and keep it. I love personal development/growth genres, but this one may be a bit tough for me. A great thing I have my book club to motivate and inspire me to finish! 
Email/dm or message me if you are interested in joining my book club!
I just started this (yesterday) So have no real opinion as of yet!! I hope it is engaging and enticing!
Thinking
The effects

 of childhood emotional neglect. This is of no one's fault, and children internalize things differently. Parents learn from their parents, who learned from their parents, and so on. Until recently, there was not much talk or discussion about the type of parenting styles. I am not a parent myself but cannot even begin to IMAGINE the amount of pressure there is to be the "right" parent. Regardless, this article is fascinating and explores the effects on children AND adults! 

Definitely MUST READ! 

*This in no way is meant to blame ANYONE, as I do not think it is ever any parents intent to wrong their children, this is meant to serve as an eye-opener and understanding of yourself, not to place blame 

How 

hard I have really been on myself

 

(and continue to be). Woah. This week was very eye-opening for me (and tough!) Trying to be kinder to myself.

I realize

 I avoid many thoughts and feelings

 

and how often I suppress then by "busying" myself so that I can avoid or not allow those thoughts. I pride myself on being on top of my feelings, but I do realize how often I try to push those feelings aside, telling myself they are not important or accurate. I want and NEED to be more mindful of my feelings because they are my own. No one else to judge or persuade me to think or believe otherwise. We are ALL entitled to our feelings, and accept and sit with them. 

How often do you allow your feelings to just "be"? Do you find yourself reaching for a distraction? Whatever it maybe?  

Planning 

my next trip.

 I am getting the itch. There are so many places I want to go within the US and outside! 

US Destinations I am thinking about: Texas (Dallas? Houston?), Arizona, Hawaii, The National Parks, Grand Canyon

World Destinations: Austria & Thailand top my list!
Sharing

I was able to get to this year's Flower Show, thanks to an amazing friend!  It was so lovely! The roses and tulips were fabulous!  I loved walking around and especially chatting with a few of the vendors! We found some amazing and great smelling soaps!  The owner also "Schooled" us about the use of fragrance-free products!!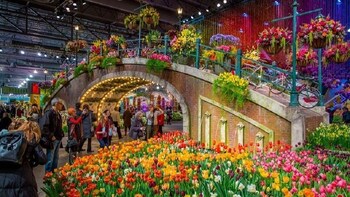 This reminds me of my favorite childhood movie….The Wizard of Oz. I feel like I am just waiting for the little munchkins to pop up and start singing! 
I realize how black and white my thinking can be at times. It is so amazing when you listen to others and just get that "aha" moment.  Working on getting my brain and thoughts off that "straight-line path" and venturing to make some twists and turns, even head down the WRONG WAY on a one-way street at times. Why not! 🙂
Inspired
Again. Creative people. There is just amazement and pleasure in seeing/hearing people share their passions.  Their eyes light up, their facial expressions change. It is such a beautiful thing to see and experience.
Start planning my next trip, I love the planning process!
Writing – I want to dedicate some time to writing my book. I love writing. It is such a personal passion. It is something I enjoy doing for me – How amazing would it be to just spend a few days in a cozy cabin with all of your favorite things and just write!?  To me, this sounds so dreamy! Beautiful stationery, great pens and pencils (fellow pen lovers YOU KNOW what I am talking about) Candles, delicious food and snacks, coffee, huge open windows, maybe a beautiful Persian cat to keep me company?  Ok , a girl can dream!

Love this candle
Maybe try a few of these gel pens
this coffee or a local Wawa 🙂
This guy looks like the purrfect companion 🙂 
Grateful
I am so grateful for the many wonderful people, things and opportunities I have in my life.  Every day I am trying to take notice of this and remind myself how fortunate I really, truly am. Not just say it. Mean it, see it, breathe it, be present in it.
Grateful for the time my mom and I spend together reading, relaxing and watching this (I have such a difficult time watching anything on TV, so truly grateful for the companionship!)
People in my life I can ask for advice and knowledge, WITHOUT being made to feel like I am less than (Thank you to all the kind people that offer me tips on stocks and market, you know who you are 🙂 It is the best gift ever to be schooled on this with someone so knowledgeable and patient. I am SO GRATEFUL
My parent's relationship. They are sort of "opposites" but I am seeing how they encourage each other in areas each is weak in (Whether they realize this or not)
the love and pleasure I get from reading.  I want to inspire this in all, especially my students.