Happy Friday and Happy (lllllloooonnnnggg) weekend!
A few of my favorite Friday feelings
ONE
Make yourself uncomfortable!
Gah, this has worked for me YET again!!  (Suprise)  I have been putting off a book for a while now because I just thought "I will totally  HATE that book because it is so out of my usual".  My routine. My normalcy.  My comfort.
A small yet significant reminder that I need to do things I do not really want to….like read Kindred by Octavia Butler (first sci-fi written by a black woman!)
Woah.  I thought……. "Sci-fi MEH!" however I am 100 pages invested and am having difficulty putting it down. It is NOT the sci-fi I had envisioned. It is amazing and so, so good! Loving it, and loving stepping out of my comfort zone, even in this itty bitty way
TWO
Infographics.
What an awesome approach to teaching! (Interested? Click here!)  I love giving my students the option to create an infographic to express themselves! (sort of like a graphic novel!)
I love this (feminist) one I recently came across. YES!
THREE
If you find yourself seeking approval constantly, it may not be a terrible day to do a little "detox" of your own. No judgment, I get it, Its hard!
Sometimes it is so hard to just be in the moment and feel those uncomfortable feelings. It is so easy to distract ourselves from our lives and our challenges, by turning to social media. It is an easy fix, but not doing much for your own personal growth
Four
Still not ready
From the ages of 16-33 I was pretty much in a relationship at all times. Most were unhealthy. I was not at a point in my life where I was able to be myself. I put all of my energy and focus into my partner, and completely ignored myself.
The past few years of my life have been SO freeing. I am finally focusing on myself. It is hard. It is uncomfortable. It is challenging. I have many of my own judgments and misconceptions that I am trying to work through. Many feelings I felt were "wrong" all these years, that I am finding out are NOT. Many areas I am finally starting to accept, whether I like it or not.  I am happy and content just being. Living. Learning. Meeting interesting people and finally allowing myself to be me.  I am also accepting that everyone will not like me and I will not like everyone, and that is OK!
FIVE
Happy!!!!!!!!!!!
Breakfast. Makes me so happy!  Seriously, it is my favorite meal of the day. In fact, I could eat breakfast foods every day for every meal. Some breakfasts from around the world…..
Russia:  Griddle Cakes
Poland:  Breakfast spread (don't forget the fresh bread and jam!)
France:  MMmmm
South Africa:  Porridge
United States:  Pancakes!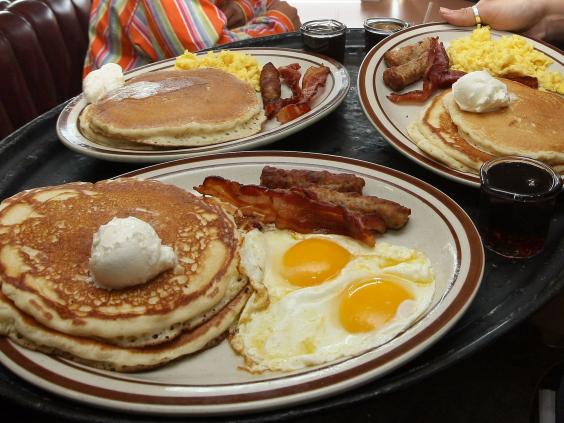 Sweden: Droooolllll
Welsh: Cheesy toast 🙂
Thailand:  Dim Sum
Or check out this infographic!