Oh my, where do I begin.  I love to travel. The excitement of finding new places, doing new things and meeting different people. I am fortunate that I have the flexibility and desire to see new places. For me, that is what life is all about.
The past two years have been challenging in many ways but yet so rewarding.  I have learned SO much about myself and others.  I had tried living in North Myrtle Beach for a bit and realized many things while I was away.  It has given me an appreciation of all that I have in my life and all that I have to be grateful for.  I learned that there is no "Magical" place that will make me happy. I am the only one that can do that. The place only adds to it.  Changing states does not change YOU.
Yet, something about being back in the area really felt like home…….
The people.
I made some amazing friends during my short time there.  It was difficult for me to revisit the area because I was afraid of what feelings my pop up.
Sure enough, once I arrived those butterflies in my tummy quickly accompanied.  It was fear, sadness, excitement, joy, fun all mixed up into an unsettling feeling at first.
My first day I called my mama, practically in tears wanting to come home.  It had nothing to do with where I was physically, but more of who I was. That is what I feared.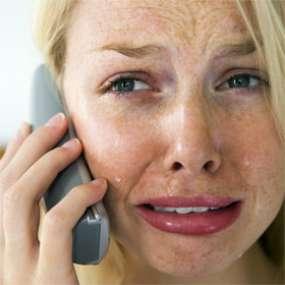 After a pep talk from my mom and myself, I ended up having the most amazing trip 🙂  I got to see a new place and even better had the chance to catch up with old friends
I was finally able to enjoy Southport for the beautiful place it was.
Enjoy as I share some pretty incredible experiences.
The Stay
I booked the cutest little cottage in Southport through Airbnb. I will no longer stay at hotels. ALL of my Airbnb experiences have been phenomenal.
I arrived at the cottage right in the heart of quiet little Southport, to a lovely welcome
My bedroom and private bath were absolutely perfect.  The bed was probably the best nights sleep I have had in the past 2 years!
The bathroom was FILLED with everything I needed and more. I will be honest, I spent a good half hour browsing, smelling and trying all the fun products! (I have some of my faves listed in this post)
Each morning I awoke to fresh coffee AND had the option of Port City Java a quick walk or bike ride away. This comes close (if not equal) to my love of Wawa and La Colombe!
The location was perfect. Located in a quiet, residential area, within walking distance of bike/kayak rentals, downtown, and the waterfront.  The area was so lush and tropical and the back yard and patio was so enjoyable and relaxing!
bedroom
backyard
Also, I made a pretty awesome reading buddy 🙂
To Do
Bike:
First, I rented the cutest mint beach cruiser bike for the week at Adventure Kayak.  It cost me $14 per day AND included bike lock, helmet, and basket!  They were super sweet, honest and so helpful!
I biked EVERYWHERE
Marina
Salt marsh walk
Kayak:
I also booked a kayak trip right away because I wanted to explore the area. Traveling alone, I felt it was probably not a great idea to go out on my own for my first time, so I joined a group.
I also booked a kayak trip right away because I wanted to explore the area. Traveling alone, I felt it was probably not a great idea to go out on my own for my first time, so I joined a group.
I also booked a kayak trip right away because I wanted to explore the area. Traveling alone, I felt it was probably not a great idea to go out on my own for my first time, so I joined a group.
I was limited with time and had an agenda ( I try to see and do as much as possible when I travel!) so I booked the first available early morning trip to Rice Creek.
I met the group and our two instructors about a mile from the creek.  We took care of some paperwork and were on our way.  Our guides took care of everything for us. They even gave a basic "how to" for those that were less experienced or had no experience. This kayak trip was definitely all levels for any age. Children and seniors would be fine!
Rice Creek is a blackwater marsh. It was absolutely STILL and quiet.  It was a 2.6-mile trip each way. Along the way our guides talked about the wildlife, history and the many trees were seeing (as well as cautioned us to beware of wasp nests!)  This trip was very relaxing and SLOW paced, very different from the adrenaline filled activities I usually seek. It was a MUCH needed break and pleasure.  Highly recommended for beginners, solo travelers or if you just want to relax
More pictures of rice creek here
Beach
Caswell Beach at sunset
Since I was already geared up to be on the water, I decided to grab lunch and check out the nearby beaches of Oak Island Beach and both were about a 10-minute drive from my "cottage".  Even on a busy 4th of July week, the crowds were NOTHING compared to New Jersey beaches!  Oak Island was a bit more "Busy" and had some restaurants and shops, while Caswell Beach was very natural and quiet.  (I saw this guy while driving along the coast)
Ferry
There are two ferries from Southport. The first is the Fort Fisher ferry. It leaves Southport and departs for a 35 minute trip to Fort Fisher (there is a pretty awesome aquarium here!)  Quite affordable at $1 for pedestrians, $2 for a bike or $8 for car load (Yes , 30 minuteyou park your car on it). It is a fun and affordable trip for the family!
The other ferry (my personal FAVORITE) is the Bald Head Island ferry.  This fe30-minuteride from Southport to Bald Head island. No cars on this ferry because……….No cars allowed on the island!  Yup. Bald Head Island is only 7 miles in diameter but with 14 miles of pristine beaches. The island is incredibly beautiful. I highly recommend visiting (or staying if you can afford it) and taking a bike ride or renting a golf cart to explore the island. The beaches are breathtaking, the lighthouse is beautiful (108 steps to an amazing view) and the middle of the island is SO fun to explore (felt like I was in a jungle!!)
This ferry was a bit more. $22 per person round trip BUT so worth it.  If you want to bring your bike, it's an additional $23! (Ouch!)
Bald Head Island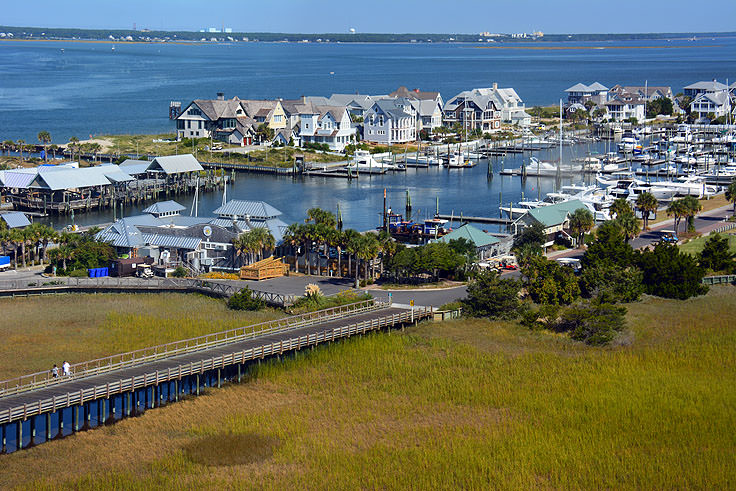 Lighthouse
View from the top of the lighthouse in Bald Head
Lighthouses
Check out the history and the views from the lighthouses in Southport here
Porch Swings
Want to relax? Eat breakfast or lunch? Read?  Do it on one of the MANY swings overlookings breathtaking views in Southport.  One morning I decided to have my breakfast while watching the sunrise
Yoga on the Dock:  Southport Yoga Dock
You must check out an early morning or early evening class here. You can see and hear the waves below you while practicing! $10 for an hour class hatha style yoga.
History
Take a self-guided historic walking tour of Southport (or bike it!)
SHOP
Every Wednesday in summer, Southport has a watefront farmers market!  I loved the setting (waterfront) and loved the vendors, food and fresh produce even more!
Southport has many adorable shops and boutiques filled with such unique things! I wish I was not going the whole "minimalist" route so that I could have brought some treasures home with me 🙂
EAT
For as small as Southport is, the food is a BIG deal! There are so many wonderful places to eat! First and foremost you MUST visit the famous Provision Company.
Serve yourself (this includes drinks, a.k.a. beer!) and seat yourself. You place your order (burgers, grouper sandwich, shrimp, etc) and they call your name when it is ready.  This place does get very crowded. If you are solo, you can grab a seat at the bar. If you have a larger group, you will have to put your name in for a table. The view and the food are pretty amazing! Well worth it!
After my meal and my beer, I took my book and my bootie to the dock and plopped down for a bit to read 🙂
Other highly recommended restaurants (reservations recommended)
Southport was a wonderful little getaway. It was so peaceful and relaxing, something we all need more of in our lives. I will definitely be back for sure!
Other fun stuff
From left to right
 How many miles is Southport from…..
Found a Little Library 🙂
Bird watching
Where some great memories were made (Where I stayed, Memory Lane)
Leapin' Lizards on my nature walk